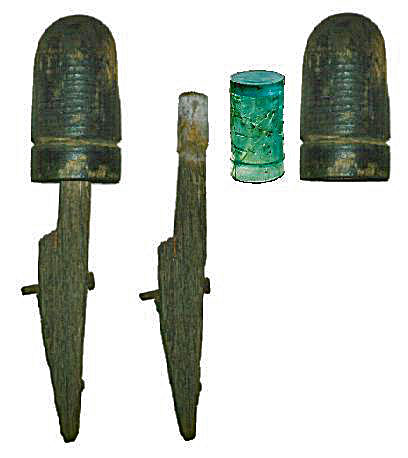 (Wood Cover) 6 1/2" high by 3 1/2" diameter
Wade Insulator
1850's
The specimen picture here actually conceals the insulator. The wood covering enshrouds a dot-dash Wade glass insulator (CD 723) and was designed to protect the insulator from breakage.
Intact wood coverings like this are rare. Even more rare is the original threadless wood bracket. Careful examination reveals a piece of burlap laid over the top of the pin onto which the insulator would be compressed. This bracket and burlap are extremely rare and provide a glimpse into how early threadless insulators were attached to pins and brackets.
This insulator dates to the 1850's and the specimen shown here was found near Grand Island, Nebraska.
Return to the Early Telegraph Insulators page
---
Written Sunday, January 19, 1997; updated Tuesday, February 21, 2012