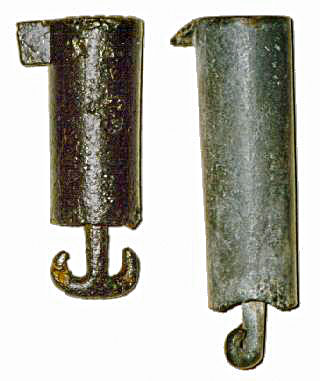 (Left) 6" high by 2" diameter (Right) 7 1/2" high by 2" diameter
David Brooks' Patent
November 29, 1864 and August 6, 1867
(Left Specimen)
This patent is extremely rare with specimens only recently discovered in Eastern Canada. Only 3-4 intact specimens are known with some additional specimens of the glass insert having been recovered. The inventor claims the following as unique features: The wire holder is secured in solid glass block by sulfur. The glass block, in turn, is also secured by sulfur in the iron sleeve. A paper sleeve is inserted into the bottom of the insulator and the cavity is filled with paraffine which is drained, leaving a thin layer which is varnished over.
As with other solid glass pours in metal sleeves, failures resulted when the glass fractured and moisture penetrated the cracks. The pieces were impossible to inspect due to the iron shell.
August 6, 1867
(Right Specimen)
This style is somewhat paradoxical. The patent drawing which accompanies the above date is actually the same drawing as the 1864 patent letter. Another patent was issued to Brooks on October 8, 1867 with drawings which actually reflect the changes from the 1864 style. All of the marked specimens reflecting the construction described in the October 8th patent diagrams actually carry the August 6th date! The improvements over the 1864 patent were supposed to result from the use of blown glass rather than pressed glass. Blown glass was purported to be a better insulator since it didnít crack like solid glass. The same problems that were experienced with the 1864 style did occur with the 1867 variant.
There are many marking variants of this style including no marking, incuse embossing, and four known raised markings, two of which reflect a CPRR mark. These markings can be seen in this photograph of six marking variations. The glass sleeves are found in aqua and SCA colors. Most of these items were used on the CPRR right of way from Utah to California. They were mounted into holes drilled into the bottom of wooden crossarms attached to poles and trees.
Return to the Early Telegraph Insulators page
---
Written Sunday, January 19, 1997; updated Tuesday, February 21, 2012